| | |
| --- | --- |
| | Loading |
Dec 5 CME Honors Trinseo CEO Christopher Pappas
ACS business group recognition for outstanding safety record and stock price performance. Press release
.
Aug 22-23 First ACS NASA Mars Symposium

The world's largest scientific society joins the foremost space agency to promote innovation and sustainability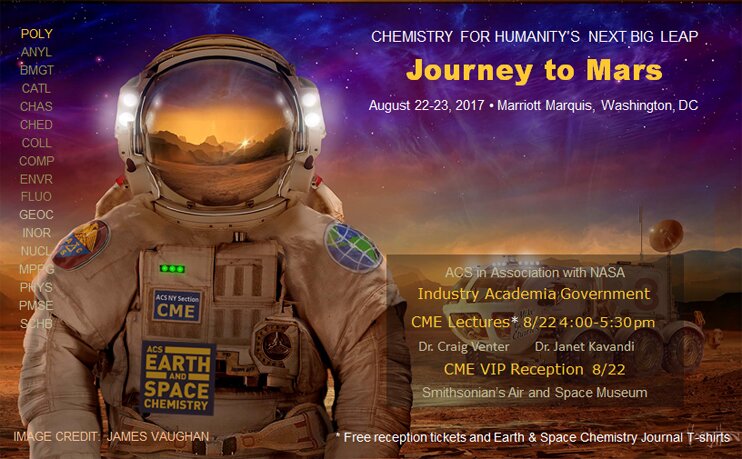 ALCHEMY CORNER

This multiple award-winning event celbrates the leaders of today and enables those of tomorrow. Dr. Charles Brumlik, CME Chair, Dr. Thomas Connelly, ACS Executive Director and CEO, and George Rodriguez, the event founder and past CME Chair. Event took place on December 5 from 11:30 am to 2:30 pm at the Metropolitan Club to honor leaders Including Dr. David Skorton, Smithsonian Secretary, for Science Involvement, and Mr. Christopher Pappas, Trinseo CEO, for Outstanding Corporate Reinvention.. Closing Remarks: Dr. Allison Campbell, ACS 2017 President.

Leadership Awards: Insightful. Warm. Inspirational.

Mars Symposium CME Lectures Speakers

J. Craig Venter, PhD, Co-Founder, Executive Chairman, Human Longevity, Inc. Founder of Celera Genomics, key contributor to the groundbreaking 2001 Science publication of the human genome. BS in Biochemistry and PhD in Physiology and Pharmacology .

Janet L. Kavandi, PhD, Director of NASA's John H. Glenn Research Center. Manages propulsion, communications, power, microgravity sciences and materials development. Astronaut. 535 Earth Orbits. 13.1 million miles. Presidential Rank Award. 3 NASA Space Flight Medals. PhD in analytical chemistry.

With the initiative of CME, ACS and NASA are bringing together Industry, Academia, Government and the Public. This event sponsored by the POLY technical division of ACS and co-sponsored by the ACS Presidents of 2016 and 2017, will focus on cutting-edge technological developments in the vast spectrum of the chemical sciences to advance human space travel to Mars and translate them into radical new practical knowledge for the benefit of Earth and its people. Preliminary schedule:

Day 1 (Industry Day): Technology Commercialization
8:00 am – 11:30 am  New Materials, In-situ Research Utilization.
1:00 pm – 3:30 pm  Cutting-edge innovation and sustainability. Key Developments in Energy, Materials and Life Science.
4:00 pm – 6:00 pm CME Lectures featuring notable NASA Astronaut and industry leaders including Dr. Craig Venter, Chairman, Human Longevity; Dr. Peter Eckes, President, BASF Bioscience Research; and others..
6:30 pm – 10:30 pm CME Reception at the National Air & Space Museum with the support of Leadership Awards sponsors.

Day 2: Advanced Research & Development
8:00 am – 11:30 pm  Energy, Advanced Propellants, Space Mining
1:00 pm – 5:00 pm  Life Support Systems including Sensors, Air and Water Purification, Radiation Shields.

Select Technical Session Speakers: Mark Banash, Nanocomp – Carbon nanotube composites; Tim Swager, MIT – Sensors; Matteo Pasquali, Rice University – Carbon nanotube wires; Eric Wachsman, University of Maryland – Batteries; Mia Siochi, NASA Langley – Lightweight carbon nanotube composites; Mark Blenner, Clemson University – Microbial engineering approaches to making lightweight materials from human waste; Fuzhong Zhang, Washington University (NASA Early Career Fellow) – Synthetic biology approaches to making fuels and advanced materials; Mary Ann Meador, NASA Glenn – Polymer aerogels for thermal and electrical insulation; Stuart Rowan, University of Chicago – Stimuli responsive nanocomposites; Jodie Lutkenhaus, Texas A&M– Battery electrolytes.

Organizers: Michael Meador, George Rodriguez, Charles Brumlik
ACS Primary Sponsoring Division: Polymer Chemistry (POLY)
Co-Sponsors: 2017 ACS President Allison Campbell, 2016 ACS President Donna Nelson, the Chemical Marketing & Economics Group of the ACS New York Local Section (CME), the National Nanotechnology Initiative Coordination Office of the US Science and Technology Council (NNI) and the ACS Technical Divisions in Analytical Chemistry, Business Development and Management, Colloid & Surface Chemistry, Environmental Chemistry, Fluorine Chemistry, and Polymeric Materials: Science & Engineering.
Please send inquiries to info@cmeacs.org

Attend CME monthly luncheons, get the pulse of the industry, network with industry leaders, sharpen cross-sector strategies and keep up with the best practices in innovation, sustainability and productivity. Watch webcasts at your convenience. Tell us about topics, speakers and how to serve you better.

We look forward to seeing you at our upcoming events.

Charles Brumlik, PhD
Chair, Chemical Marketing & Economics (CME) group, American Chemical Society's New York Section. Contact CME ACS

Since 2012 CME has received three prestigious American Chemical Society ChemLuminary Awards including those for Global Engagement in 2012 and 2014.

Chemical Marketing & Economics Group

CME is the business topical group of ACS NY and a top supporter of STEM students through industry meetings, scholarships and chemistry festivals. Established in 1954, Chemical Marketing and Economics (CME) organizes exciting monthly luncheons in midtown NYC where thought leaders present cutting-edge outlooks and actionable insights on energy, materials & life science. CME's audience includes professionals from industry, investment, academia, media and supranational organizations.

The American Chemical Society (ACS), founded in Manhattan in 1876 and chartered by the U.S. Congress, is the world's largest scientific society with over 150,000 members.

STEM Education is Key to Peace and Prosperity

Enable the Leaders of Tomorrow: Support STEM Education.

NEXT EVENT

A dynamic renewal process in politics and economics is driving Latin America into a new era for business and growth. With a combined population and gross national product similar to that of Brazil, the Pacific Alliance trade block that boasts investor-friendly policies, is recalibrating its strategy to leverage its valuable resources and face formidable geopolitical forces. After asserting the strength of its democracy and young demographics, Brazil, the largest member of Mercosur, is carrying out a fundamental policy shift to attract re-investment and business in the medium and long term as the country blooms into the fifth economy in the world by 2030. In addition, Asia and Europe may continue to increase their positions as two of South America's salient marketers and investors in a region critical for growth and resources. Don't miss the expert analysis of changes that savvy strategists and investors can use to identify the opportunities created by the new trade dynamics and the promise of a growing Latin American population estimated to reach one billion people by mid-century.

Lourdes Cassanova, PhD, Academic Director of the Emerging Markets Institute at the Johnson School of Business at Cornell University. Appointed in 2014 as one of the 50 most influential Iberoamerican intellectuals by Esglobal. A Fulbright Scholar, she worked at leading universities such as UC Berkeley, Cambridge, Oxford, and Zurich. Directed executive programs at INSEAD including the Goldman Sachs 10,000 women initiative. Author of books such as 'Global Latinas: Latin America's emerging multinationals' and articles in business and academic journals. Member of Latin America Global Agenda Council and the Competitiveness in Latin America taskforce of the World Economic Forum.

Marcos Troyjo, PhD, co-founder of BRICLab at Columbia University, where he teaches international affairs with emphasis on Brazil, Russia, India and China. He is an op-ed columnist for Folha de S. Paulo, Brazil´s biggest circulation newspaper, and a regular commentator for CNN en Español, Huffington Post and Financial Times. He is also the founder of the Center for Business Diplomacy. He is a Visiting Professor at the Russian Presidential Academy (Ranepa), He authored the books Trading Nation: Power & Prosperity in the 21st Century and Desglobalization: Chronicle of a Changing World, which appeared in 2016.

Danil Kerimi, Director of the Center for Global Agenda at World Economic Forum USA. Prior to joining the WEF in 2008, Danil Kerimi worked with the United Nations and other international organizations. From 2008 to 2011, Danil led WEF's engagement with governments and business leaders in Europe and Central Asia. Since 2011, he has been in charge of data, digital ecosystem, ICT and competitiveness, and hyperconnectivity.

PAST EVENTS

Tom Kichler, Partner and US Head of Industrials and Energy at CVC. Previously, worked at One Equity Partners (JP Morgan), Citigroup CIB (Salomon). Board of Directors at Anchor Glass, and he served at the Boards of East Balt, PeroxyChem, Sonneborn Refined Products, Columbian Chemicals. BSE, Wharton School.

Michael White, Assistant Vice President of Creative Fragrance Development at L'Oreal USA, .has 30 years in the personal care industry in quality, formulation, and creative fragrance development. Mike has worked for Gillette and has created fragrances for nearly every personal care category in body application.

Dennis Maroney, Perfumer at International Flavors and Fragrances which he joined in 2001. Previously, he was Perfumer at Shaw Mudge and Co. and Kato Worldwide Ltd. He was President of the American Society of Perfumers. BS in Psychology and Chemisty.

Ezra Greenberg Economist and Strategist. A Senior Expert in McKinsey's center for advanced analytics in strategy, corporate finance, and macroeconomics,Ezra worked for three years at the world's largest hedge fund, Bridgewater Associates.

Sam Samdani , PhD, is a senior industry knowledge expert at McKinsey & Company, a global management consulting firm. His responsibilities include leading the firm's Chemicals & Agriculture Practice. Prior to joining McKinsey in 1995, Sam worked at McGraw-Hill He holds a BS and PhD in chemical engineering.

Theodore Clark is the Co-Founder, President and Chief Executive Officer of Royal Adhesives & Sealants LLC, a global top six manufacturer of adhesives and sealants for the transportation, assembly and construction industries and is also Board member of MPD Laboratories and Nusil a silicone manufacturer. He has been President and Chief Executive of PRC-Desoto , Burke Industries and has led Royal Adhesives LLC since its founding in 2003.

Fred Festa joined Grace as President and COO in 2003, became CEO in 2005, and Chairman in 2008. He completed 22 acquisitions and guided Grace through the longest Chapter 11 process.  Festa served in senior positions at Morgenthaler Private Equity Partners, ICG Commerce, AlliedSignal and GE.

Emile Homsi, Ph.D., LLM, is currently the SABIC Global leader for The Polymer Application Technology Group. Emile has worked for Honeywell, BASF and DSM. He was Americas VP of Research and Technology for DSM.

Matt Morrison, DFES, MBA, is the SABIC Americas leader for Corporate Sustainability. He worked as a research scientist and team lead at the U.S. EPA Office of Research and Development. He has a PhD Forestry and Environment, MS in Chemistry, and an MBA.

Tamal Ghosh , PhD, is an expert in polymer engineering for Sustainable Packaging, Bio-derived Polymers, Polymer Composites, and Barrier Coatings. He has two decades of global industry experience at Engelhard, Ciba Specialty Chemicals and PepsiCo.

Michael A. Meador, PhD, is Director of the National Nanotechnology coordination Office (NNCO). NASA Glenn Research Center Chief of the Polymers Branch (1988 to 2011). He led a NASA-industry-academia project under the Space Technology Mission Program.

Rajiv Banavali, PhD, is Chief Technology Officer for Honeywell Advanced Materials. He has worked with new low-global-warming-potential Solstice refrigerants, blowing agents, solvents and aerosols as part of Performance Materials and Technologies.

Qinghuang Lin, PhD, Research senior manager at IBM Watson Research Center. He is an IBM Master Inventor with over 80 granted patents with 70 patents pending. He is the editor of 6 books and the author of over 60 technical papers. He is the Chair of the ACS Polymeric Materials Science and Engineering (PMSE) division.

Federico Mennella, Managing Director & Head of Lincoln's International Global Chemical practice. Led Chase's Chemical and Industrial M&A advisory . Worked at Peter J. Solomon, Deutsche Bank, McKinsey, Lazard, Oppenheimer and Arthur Andersen.

Renzo Merino, Analyst, Moody's Sovereign Risk Group. Has covered the credit of the Inter-American Development Bank, Panama, Ecuador, USA, Canada, Australia, Hong Kong, South Africa, Brazil, Peru, and Venezuela. Country Risk Analyst at BMI.

George Rodriguez (moderator), strategy and innovation advisor. Served at Asahi Glass, Nagase, Pfizer and Union Carbide (Dow). Expertise in strategy, sales and marketing, and M&A in chemicals, biopharma, biofuels, bioplastics and Latin American operations.

James S. Rosenstein, Executive Director, Brazilian-American Chamber of Commerce. Served at ViS Research, Bentley Motors, Toyota, the European Bank for Reconstruction and Dev. and BNP. Fellow at Harvard University's Advanced Leadership Initiative.

Michael King, PhD, is Michael King Jr is a Managing Director and senior research analyst in biotechnology . Prior to joining JMP, he worked at Dawson James Securities, Rodman & Renshaw, Ziopharm Oncology and Wedbush Securities.

Nathan Tinker PhD, has been Executive Director of New York BIO since 2007. He has worked at Sabin Vaccine Institute Cancer Vaccine Consortium and Antenna Group.  Dr. Tinker was Co-Founder and Executive Vice President of the NanoBusiness Alliance. 

Paul Pospisil, PhD, is a Senior Client Partner, Global Life Sciences at Korn Ferry. He recruits CEOs, CFOs, CTOs and other key executives. Co-founder of Aduro Capital LLC. He has worked at Atlas Venture, Millennium Pharmaceuticals and Altus Biologics.

The global chemical distribution channel is large, fragmented and will grow faster than the $3.4 trillion global chemical value chain .

J. Erik Fyrwald Univar CEO since May 2012. He was President of Ecolab; CEO of Nalco, and Group Vice President of the Agriculture and Nutrition Division of DuPont. Serves on the board of Eli Lilly, Amsted Industries, The SCI, and The Field Museum. BS ChE.

Ken Gilbert, Chief Marketing Officer (CMO) of Voss of Norway ASA. Ken has over 35 years experience with companies such as A&W Brands, G. Heileman Brewing, Cadbury Schweppes, and Mystic Beverages. Ken was CMO of the Snapple Beverage Group.

Kay Murano, PhD, Flavorist at International Flavors and Fragrances (IFF). She is a member of the Creative and Applications team. Dr. Murano holds a B.S. and M.S. in Chemistry from St. John's University and a Ph.D. in Food Science from Rutgers.

Kevin Swift, PhD, is a Managing Director and Chief Economist at the American Chemistry Council in Arlington, VA, where he is responsible for economic and other analyses dealing with markets, raw materials, trade, tax, energy, and competition and innovation.

Robert Fry, PhD, is Principal at Robert Fry Economics where he analyzes the global economy to help decision-makers at manufacturing companies and wealth management firms. He was an award-winning Senior Economist at DuPont.


Adam Abramson, is a Managing Director at Deutsche Bank. 14 years experience in the chemicals investment banking and over $75 billion of advisory and capital transactions. Advised Trinseo on its IPO. Involved in the acquisition of Celanese by Blackstone, and the JV of Americas Styrenics by Dow and ChevronPhillips Chemical. Sell-side: OM Group to Apollo and Platform Specialty Products, Rockwood's Pigment business to Huntsman, Ocean Nutrition Canada to DSM, Solutia to Eastman Chemical, Lyondell Chemical to Basell, Ashland's Electronic Materials to Air Products.

Jay Vroom, has been president and CEO of CropLife America (CLA) since 1989. CLA lobbies for the benefits of crop technology in enhancing food, fiber and renewable fuel production, and advocates for science-based regulations. He brings agency experience, plus environmental science knowledge from the U. of Illinois.


Iain Kelly, Ph.D. is Research Fellow and Director of Regulatory Policy at Bayer CropScience in RTP. With more than 30 years' experience, his primary responsibility has been coordinating a range of bee health related topics. He is the immediate past chair of CropLife America's Pollinator Team.


Mark Vergnano is CEO of Chemours, arguably the most significant spinoff of the legendary DuPont in the last half century. The Chemours is in a unique position to re-invent the nature of the formerly known Chemicals & Fluoroproducts and Titanium Technologies businesses of DuPont. Speech Audio/PPT and Press Release


Speaker: James Mish leads Ashland's global Consumer Specialties business, a leading provider of personal and household care, pharmaceutical, and nutritional specialty chemicals. Mish has integrated the International Specialties Products (ISP) and Ashland consumer businesses to achieve improved growth, innovation and customer experience.

Analysis of the opportunities created by the new trade dynamics and the growing Latin American population estimated to reach one billion people by mid-century. Moderator: George Rodriguez.

Mauro Leos, Vice President and Sr. Credit Officer, Moody's Sovereign Risk Group. He is the Regional Credit officer for Latin America. He was Managing Director for Latam at Wharton Econometrics. Graduate in finance from U. of Wisconsin and ITES de Monterrey.

Christian Perlingiere, Associate Director, Latin America, Veracity Worlwide. He analyzed political, social, environmental, and reputational risks linked to major mining projects. Graduate from Georgetown and U. of Chicago's Booth School of Business.

Alberto Ramos, is head of the Latin America Economic Research team in the Global Investment Research Division. He joined Goldman Sachs in 2003. He worked at the IMF for six years.He earned an MA and PhD in Economics and taought at the U. of Chicago.

Mark Gross is a Managing Director at Dominick & Dickerman, an investment bank. He was Head of Corporate & Investment Banking, Brazil at Standard Chartered Bank and Country Officer for the American Express Bank International. He holds an MBA from the Stern School of Business.

April 2, 2015 - Japan-USA: Regenerating the World of Medicine

Hiromichi Kumagai, PhD, – Fellow, Head Biotech Lab, Asahi Glass Central Research. Former Managing Director of the ASPEX Division of AGC. Received the 2011 Award of the Japan Bio-industry Association. Shinya Yamanaka, the 2012 Nobel Prize winner found that induced pluripotent stem cells (iPSC's) could be derived from normal adult cells..

Speaker: Stephen Chang, PhD, , Vice President for R&D at NYSCF. Since 2005, the New York Stem Cell Foundation has created the first patient-specific stem cell lines for ALS and reprogrammed pancreatic cells. Genetic models of diabetes, Parkinson's and Alzheimer's diseases of human stem cells are being developed at the NYSCF Lab .

Moderator: Sam Samdani, Sr. Knowledge Expet at McKinsey & Company. Abstract: This presentation focused on four disruptive technologies relevant to chemicals:3D printing, carbon nanotubes and graphene, next-generation genomics, and shale oil & gas recovery. The panelists were: Chris Krampitz. strategy manager, digital manufacturing technologies, UL (Underwriters Laboratories), Farren Isaacs, assistant professor of Systems Biology at Yale University, and Miguel Mireles, business development, chemicals & materials, Grace Matthews.

James Huntsman, President, Huntsman Advanced Materials. With annual sales over $1.3 billion in epoxy and polyurethane-based polymer products, this Division of Huntsman is aligning global resources with attractive growth markets in aerospace, adhesives, high-performance coatings, power generation, green electronics and large-scale engineering projects.

Speaker: John Rolando, President of Evonik North America. With more than €12.5 billion in sales in 2012, Evonik is in the midst of an ambitious €6 billion investment program focused to grow its specialty chemicals businesses around the world.

The Symposium was organized by Solvay in association with CME and ACS. Solar Impulse is the first solar-powered aircraft to fly across America day and night without any fuel. This amazing machine of 63 meters (208 ft) in wingspan that weighs only 1600 kg (3520 lb) is a marvel of engineering, chemistry, physics, and most importantly, the human passion for perseverance and making the impossible dreams come true.