| | |
| --- | --- |
| | Loading |
STEM Education for the Benefit of Mankind

Support science, technology, engineering and math (STEM) education at the local, national and global levels
October
National Chemistry Week for Children K-12

New York Hall of Science, Queens
New York
10 am – 4 pm

Each October, the New York Section of ACS celebrates National Chemistry Week. Children K-12 learn about chemistry using hands-on demonstrations, including making their own Gatorade and quantifying iron in cereals. They also participate in a Poem Contest. We need donations for goggles, meals, and other expenses. Share you love for science with the kids and enjoy a fun day!

Annual Program
ACS Scholars Program

Columbia University
CUNY
NYU
Princeton University
Other colleges nationwide

ACS awards renewable scholarships to underrepresented minority students who want to enter the fields of chemistry or chemistry-related fields. Since the program's inception in 1995, over 2000 awards have been given to qualified high school seniors or college freshman, sophomores, or juniors pursuing a college degree in the chemical sciences or chemical technology.

Long-term Support
Sponsor STEM Education

Local
Regional
National
Global

As a nonprofit organization, CM&E needs your help to advance the study of chemistry, the central science. Individuals' contributions and gifts, company sponsorships and grants from foundations, help ensure that ACS can continue to foster chemistry education including a support network for students to thrive and focus on finding green solutions to  the challenges of human kind.
Chemistry: Harnessing Our Curiosity For Life

Chemistry is the central science that studies the transformation of matter in the universe in any state – solid, liquid, gas or plasma – to improve the lives of people and advance civilization.

The population expansion from 1 billion in 1800 to 7 billion today has been possible because of the endless curiosity and ingenuity to solve the colossal needs for water, food, construction, energy, health care, waste relief, communications and transportation.

At the core of STEM education, chemistry is enabling solutions to keep up with the demands of humanity while maintaining peace, enhancing quality of life and exploring the edge of the universe.

As we enter this century, we face some of the most formidable technological challenges that  humanity has ever encountered - an increase in population by three billion, the doubling of agricultural output, epidemics that can spread at the speed of an airplane, water shortages and an insatiable appetite for energy.

Calling All Members: Rekindle STEM Education

Science, technology, engineering and mathematics (STEM) have been amazing forces propeling the advancement of civilization.

The USA ranked 27th among the world's 29 wealthiest countries in the proportion of science and engineering college graduates in a report by the National Academies. Moreover, of the $300 Billion in annual donations, 13% goes into education and a minor part of that goes into science.

The traditional pillars of education, both public and private, are falling short in the support of our children's STEM programs. Industry leaders have noted that for a decade it has been hard to find local technical talent so skilled jobs are going overseas.

The USA has 26 steps to climb in the global rankings. Your support for the advancement of STEM is needed more than ever.

ACS is one of the few scientific societies that have the commitment, breadth and reach to support science education throughout life. ACS organizes local activities that nurture the love for science since Kindergarten and throughout college, provides mentoring and financial support of talented scholars, develops science education tools for teachers, meets with government officials to move forward educational policies and rewards scientific achievement.

Please Contact CM&E and make a pledge. Your contribution will make a difference in the lives of the next generations. We at CM&E and ACS thank you in advance for your solidarity and generosity.
Support ACS STEM Scholars

Help more outstanding scholars from underrepresented groups in society build a better tomorrow
Billy Aguinaga
B.S. Chemistry Student, Fairleigh Dickinson University. Billy and his sister Miluska are the first in their family to go to college. Their roots stem from the inca empire and the Caral civilization that was the first in the Americas in 3,500 BC.
"Thank you CME STEM education sponsors. Your generosity is giving me the opportunity to prepare for research and innovations in the field of medicine."
Daniel Galvez
B.S. Materials Science Student, Cornell University. Daniel achieved a perfect SAT score. His leading-edge nanotechnology work aims to integrate advances in various fields of knowledge to advance innovation.
"CME's presentations have only made more excited about creating technologies to make a better world. I am sincerely grateful for your support."


Christian Gould
B. S. Biochemistry Student, Columbia University. Christian has exhibited outstanding scholastic, communication and leadership skills.
"I would like to thank CME sponsors for their generous financial support. It is truly an honor to attend ACS hosted events as well as meet award-winning leaders."
Andromeda Urquillo
B.S. Chemistry Student,Barnard College at Columbia University. Science and a unwavering spirit service are Andromeda's trademarks.
"My goal is to become a respected researcher that someday will help many others in need. I thank STEM education sponsors so much for helping students like me turn those dreams into reality. "
Help STEM Students Connect with Industry

Meet the fine student volunteers who will become the future leaders of society
David Ferber

"I was blessed to be a part of CME'sLeadership Development Program. Not only was I learning important interpersonal, management, and organizational skills, I got to work with a team of enthusiastic individuals with a passion for business and STEM education. Over two years I gained invaluable career advice from CM&E Board Members and had many stimulating conversations with leading professionals in the Chemicals Industry."
David Ferber graduated from Columbia University's Fu Foundation School of Engineering and Applied Sciences. He holds a Bachelor of Science degree in Chemical Engineering with a minor in Earth and Environmental Engineering. Currently a Junior High and High School Tutor at Ivy League Tutors Network, he is recognized for his excellent explanations of complex concepts using easy-to-understand terms by students, parents and educators.
Allegra Mondillo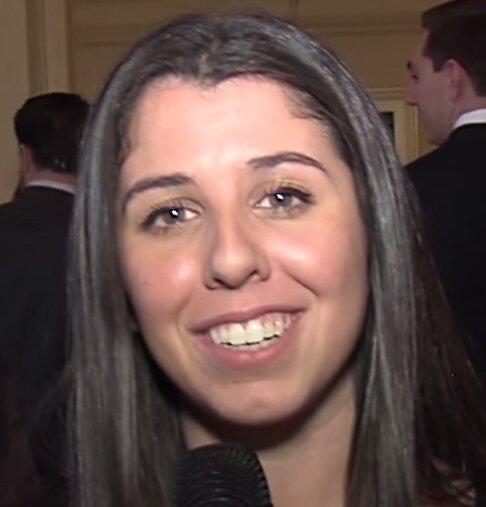 Allegra holds a B.S. in Chemistry from NYU. In addition to a fine scholastic record, Allegra is a charismatic organizer and communicator. She played the central role in the organization of two dozen students who volunteered to support the 2014 Leadership Awards (TM) event at the Yale Club in New York.
"I thank CME and the Leadership Awards attendees and sponsors for giving me such a great opportunity to coordinate the support of student volunteers. I feel so lucky to have experienced firsthand such an amazing celebration of industry and student leaders. The wise words of such renowned speakers will be with me after I graduate in the spring. I look forward to becoming part of this great industry and helping organize future meetings in any way that I can."
Anna Powers

"Congratulations to CME on great leadership and fantastic work in organizing such a successful Leadership Awards event! I am excited to take part in this organization and learn from its terrific Board of Directors."
Anna is a Ph.D. Candidate of Theoretical and Computational Chemistry at NYU. Anna is the recipient of the 2014 Global STEM Student Leader Award of CME (see 2014 Awards in the Menu above) for her outstanidng effort in advancing chemistry through Festivals in Peru that helped 2,000 students and for her key role in the formation of the first ACS International Chemical Sciences Chapter in Peru ( the first in Latin America in ACS's 138-year history).
She holds a BS degree in Chemistry with a minor in Mathematics from NYU. Her thesis was on "Quantum 3D calculations of the translational and rotational dynamics of the methane molecule inside the cages of Structure I clathrate hydrate." She graduated Cum Laude. Anna received the 2011 College of Arts and Sciences Outstanding Teaching Award which was given to only 6 Adjunct Professors across NYU's 50 departments. She teaches the Energy and the Environment class showing non-STEM students the magic of science. Anna's passion for advancing STEM education throughout the world in particular for women, represents well the mission of CM&E.